Number One Rule - Can I get back?
If you have mobility problems with walking ask yourself
Can I get back to my car?
Is there a seat where I can take a break?
​
Out and About
Welcome to our Out and About page. Living with Lymphoedema means we have good days and bad days so being prepared for our travels whether it's for a couple of hours or several weeks is important.
This page is all about giving suggestions and planning your journey for the following:
Day trip

Business meeting

Going to college or university
Being prepared when living with lymphoedema is so important. Therefore, research where you are going. Plan ahead, build in extra time to your planning. If you have a wheelchair will the transport you are using have accessible areas. If you have a carer is there room for both of you. Be prepared to pace yourself.
If you are going on holiday visit our Holiday Care page.
Travel by Car
My tips:
Build in time to get out and have a walk

Can you stretch your limbs in the car?

Do you have enough leg room?

Remember to do ankle and finger exercises

If it's hot use the air-conditioning

Have you packed drinks/snacks?

Drink plenty of water

Pack baby wipes for that quick freshen up

Walking aids
Travel by Bus
​Use rest breaks to get off the bus

​It is unlikely you will have leg room

​Stretch your limbs

Do ankle and finger exercises

Drink water​
Travel by Train
Travel by train?
How accessible are the train stations?

Are their lifts between platforms?

Are toilets signposted and easy to find?

On the train can you move around?

Moving your limbs is so important

Have you packed drinks/snacks

Book Assistance in advance
If you are struggling, don't be afraid to ask for help from fellow passengers. You do not need to be the first off the train. Make sure your affected limb is not jostled by other passengers.
By Plane
Pre-book your seats

Ask for assistance

Allow plenty of time in your journey

Make sure your seat-belt is not too tight

Move around as much as possible

Exercise ankles and fingers

Do deep breathing exercises

Drink lots of water

Avoid alcohol

Watch your salt intake

Baby wipes for that quick freshen up
It is important for you to be safe when flying, make sure your seat belt does not leave indentations on your skin.
Research Accommodation
If you are thinking of staying overnight.
Are lifts accessible

Wet rooms or accessible showers

Is there a porter to help with luggage

Is reception 24 hours in case you need assistance
​
Emergency Funds
Nobody likes to talk about finances but do carry an emergency fund for those unexpected expenses such as:
paying for the loo

that extra cuppa or meal not planned for

unexpected night in a hotel

unexpected medical expenses

travel delays
First aid kit
I asked L-W-O members what they would carry as essentials on a day out, between them they compiled this list:
Water

Pain Killers

Hand gel/hand wipes

Antiseptic cream

Antihistamine cream (in case of bites/stings)

Plasters

Diarrhoea medication (for IBS)

Sun screen

Medical Alert cards or wristbands

Cereal Bars

Blanket

Fold-up chair

Spare compression garments

Book/Kindle

Radar Key or I need the loo cards
Importantly you need someone with you to speak for you if you become incapacitated, to make sure that:
NO Invasive procedures to your affected area.
NO blood pressure readings/blood tests, Injections, IVS
ICE
In case of emergency.   Please make sure you have ICE (in case of emergency) in your mobile phone.  Did you know?  That there is also a place to add a note; Mine reads; Lymphoedema no invasive procedures to right arm. No BP/Blood tests to right arm. No injections or IVS to right arm. 
Walking Aids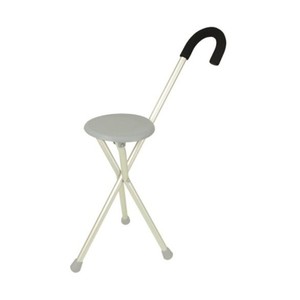 If you struggle with walking this type of aid acts not only as a walking stick but becomes a seat for those moments when you need to rest. There are so many different options to make life easier.
Fuel Assistance
There is a free app that lets you know which fuel stations in your area have staff available to assist disabled motorists.
If you struggle through disability to fill up your fuel tank that, there is help at fuel stations. Fuel Service is a free app that lets you know which fuel stations have staff available to help. The app contacts the station in advance and lets staff know when you arrive. The station will confirm before you arrive if they have staff available. Find more details:
Disability Information
None of us like to think of ourselves as being disabled but mobility problems come in various different forms.
From the swelling and painful lymphoedema in your feet, legs, arms or other areas that can't be seen.
It might be from arthritis where walking is extremely painful or the pain you are suffering from the neuropathies people can't see.
It might be from the incontinence issues or bowel/stomach problems that cause you a great deal of embarrassment.
Or the mental health issues that you are trying to keep to yourself, putting on that brave face and telling the world you're ok.
This section is not about solving those problems but giving you some information that might make life a little easier.
Radar Key
Rushing to the loo and you find the nearest disabled toilets are locked and your bladder/bowel can't wait while someone finds a key.
Then you can buy your own key from: As of September 2017, retailing at £4.50
https://www.disabilityrightsuk.org/shop/radar-key
Whether you are out in town on the edge of a town in the car these companies will allow you to use their loos free of charge.
MacDonald's, Burger King, KFC, Costa, Starbucks
There is also an app and a card I can't wait from:
https://www.bladderandbowel.org/help-information/just-cant-wait-card
The card which you can order online is free
Or for £1.99 you can down load the app to your mobile which makes this instant. It also gives you information as to where your nearest toilet is, unfortunately only available on IOS.
Blue Badge UK
If you have mobility problems, please apply for a Blue Badge, you can do this through your local Council.
This page was first published 06/01 October 2018
Page updated 20th December 2017
Underlined links indicate that they lead to another L-W-O page or an external website, or email contact.
L-W-O does not guarantee the information or endorse external links to other websites.