Accessibility Information
None of us like to think of ourselves as being disabled but mobility problems come in various forms. From the swelling and painful lymphoedema in your feet, legs, arms or other areas that can't be seen to having osteoarthritis or rheumatoid arthritis and quite a few of our members have fibromyalgia, they all present challenges when travelling. However, with a little bit of planning and various aids to assist us along the way, nothing should stop you getting out and having fun.
Some people live with incontinence issues or bowel/stomach problems that cause you a great deal of embarrassment and having a radar key or "I need the loo" card can make life so much easier.
Then there are mental health issues that you are trying to keep to yourself, putting on that brave face and telling the world you're ok. This section is not about solving those problems but giving you some information that might make life a little easier.
PEEPS
If staying in hotel or holiday resort and you have disabilities request a Personal Emergency Evacuation Plan (PEEPs) this will give you instructions on what to do in an emergency. It is the venue who is responsible for evacuation not the fire service in the UK.
When booking a hotel check the room being allocated to you is going to suit your needs e.g. walk in shower or wet room.
If you are a wheelchair user or person with mobility issues the fire service prefer you are not roomed above the 2nd floor.
Anyone with hearing problems can request vibrating pillows so they can be alerted when the fire alarms go off.
If you have an assistance dog, venues cannot refuse you access including restaurants and eating areas.
Speak to venues before your booking or arrival so they are prepared to accommodate you do not assume they will.
Being prepared in advance really helps. Venus cannot help you if they do not know your needs.
Bus Pass
Are you entitled to a bus pass? To find out click on the link, enter your postcode in the search box and it will take you to your council's website. The website states for 'elderly persons bus pass however those with a disability can also apply for one.
Blue Badge UK
If you have mobility problems, please apply for a Blue Badge, you can do this through your local council. As of 2019 some invisible disabilities will be eligible for a Blue Badge.
Communication Problems
If you have communication problems then a JAM Card is a good idea, designed for people with Autism, Asperger's, Dementia or Memory problems.
Where might you use this:
At a cash register
When shopping
Getting a Taxi
Public Transport
The Jam card is also for people who have had anxiety issues. Virgin Trains have already adopted this scheme and have made a sensory room at Crewe Station for people to use to just give them time away from the hustle and bustle of the busy station. Other rail companies are looking to do the same. The reason for having the card is so vulnerable people are kept safe, Some schemes have lanyards. This card is more discreet. Source: Thank you to L-W-O member Fiona Stevenson for supplying this information.
Hidden Disability Lanyards
The Sunflower Hidden Disability Lanyards is being recognised by companies to assist you when you use their services. Available direct from the companies, so far I have found airports, railway stations and supermarkets who have introduced this service. If this service has been introduced then staff have received appropriate training to assist you.
Radar Key
Rushing to the loo and you find the nearest disabled toilets are locked and your bladder/bowel can't wait while someone finds a key.
Then you can buy your own key from: As of June 2019, retailing at £4.75
https://www.disabilityrightsuk.org/shop/radar-key
Whether you are out in town on the edge of a town in the car these companies will allow you to use their loos free of charge.
MacDonald's, Burger King, KFC, Starbucks
Incontinence/Bowel Problems
If you have an incontinence or bowel problems this app or card should be a great help. You can order order online free or you can download the app to your mobile for £1.99 which makes it instant. It also gives you information as to where your nearest toilet is.
Get the benefits your entitled to.
Do struggle with a complicated benefits system? Do think the benefits system works against you?
Then this useful website has lots of tips and advice to guide you through and make the process less complicated.

Fuel Assistance
There is a free app that lets you know which fuel stations in your area have staff available to assist disabled motorists.
If you struggle through disability to fill up your fuel tank that, there is help at fuel stations. Fuel Service is a free app that lets you know which fuel stations have staff available to help. The app contacts the station in advance and lets staff know when you arrive. The station will confirm before you arrive if they have staff available. Find more details:
Cinema Card
Did you know that you might be entitled to a free cinema pass that allows your carer to go to the cinema free, if you receive the following?
Disability Living Allowance (DLA)

Attendance Allowance (AA)

Blind Persons Registration

Personal Independence Payment (PIP)

Armed Forces Independence Payment
The card costs £6.00 and is valid for one year
Walking Aids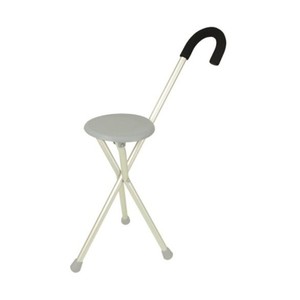 If you struggle with walking this type of aid acts not only as a walking stick but becomes a seat for those moments when you need to rest. There are so many different options to make life easier.
ICE
In case of emergency. Please make sure you have ICE (in case of emergency) on your mobile phone. These apps allow you to have a list of your medication, illnesses, next of kin, relevant telephone numbers and lots more information. I have this message in my app; Lymphoedema no invasive procedures to right arm. No BP/Blood tests to right arm. No injections or IVS to right arm.
Benefits Advice
I am always being asked for advice on Benefits and although I am not qualified to give advice you might find the following information useful.
July 2017, I spoke to several different benefit advisors so here is the information I was given.
PIP refused? If you disagree with the decision you can contact DWP/Dfc and ask for a 'Mandatory Reconsideration'.
If you still disagree with their response in the mandatory reconsideration then you can APPEAL the decision....
Tel: 0345 850 3322
DWP web: gov.uk/pip
Information first published on our Out and About Page October 2017
Page updated 24/06/2019